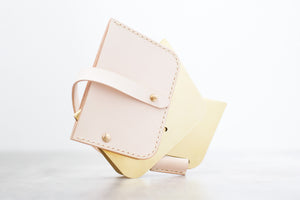 Leather Brass Wallet
Sale price Price $189.00 USD Regular price
Leather Brass Wallet
DIMENSIONS
Width: 86mm
Depth : 22mm
Height: 120mm
MATERIALS
Brass, from Korea
Leather, from Italy
Designed to hold your cards and cash securely without a lot of bulk. This wallet is cut by precision cnc machine and handcrafted-finished using two pieces of uncoated brass plates and two pieces of premium natural vegetable tanned cow leather card slots. This wallet is hand stitched with natural waxed linen thread.
Simple slide out design for those of you who like being organised and carry the essentials. Inside, the card slot holds 3-5 cards and money clip stores your cash folded in half. Outside, two leather card slots hold extra 6-8 cards.
This is also a RFID blocking wallet, nothing could be scanned as long as you put your cards inside. Two pieces of brass plate can keep your RFID credit cards ( PayWave ) safe, since RFID products can possibly be read from a distance, and hacker might be able to read your credit card information remotely as you pass by. *Cards could be scanned if you put it into leather card slot.
This wallet made of two pieces of uncoated brass plates. With your hand touch everyday, the colour will gradually get darker as time goes by because of oxidisation, showing a distinctive patina. Using it with you for a long time will unveil the beauty of its maximum potential of the material. It will darken and develop a beautiful caramel patina with vintage style. Poetically speaking, it will be aged with you.
Also, the leather slots made of premium quality natural vegetable tanned leather from Italy. Leather will get darker, turning into a distinctive caramel with time.
This leather brass wallet is made bespoke and made to order and will be dispatched within 10-14 business days. All Svole products are crafted by us in our workshop in Hong Kong. We focus on producing quality goods to last generations. We ship worldwide.