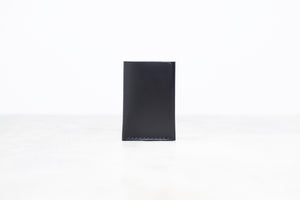 Slim Wallet スリム ウォレット
Sale price Price $0.00 USD Regular price
Slim Wallet  スリム ウォレット
SVOLE スボレ の製品は天然素材を手作業で作っています。
技術を高め品質を守るため日本から匠の職人招いて生産しています。
コンセプトは製品と人とが一緒に成長する。
見たり、感じたり、木と真鍮の質感で表現する。
時間の美しさを贅沢に感じることができます。
世代を超えた美しさを実現させています。
伝統的な方法と新しいテクニックが融合した時代を超越した、
機能的な日常の製品をご堪能下さい。
DIMENSIONS サイズ(mm)
Width: 65mm
Depth : 5 ~ 15mm
Height: 97mm 
MATERIALS 素材
Leather from Italy イタリア製のカウレザー
Original designed, handcrafted-finished using only one piece of leather and one thread. 
Card slot holds 1-10 cards and some cash folded in half. ( Depending on type of cards )
We focus on producing quality goods to last generations. We ship worldwide. 
Have a question? Contact us.
一本糸だけ、一枚革の財布
ビザカード 10 枚の収容力
外側の現金は半分に折り重ねられます。
ご注意事項
・モニターの発色の具合によって実際のものと色が異なる場合がございます。
・自然素材のため、色合いのご指定は出来ません。
質問があります? Contact us.